Flying Colors Aircraft Paint Shop Paint and Interior Services:
Leesburg International Airport, Florida (KLEE) 

Flying Colors Aircraft Paint
 services include: 
Painting services in conjunction with aircraft overhauls / repairs.
Assessment and reporting.
Chemical paint removal or scuff.
Corrosion surface protection/treatments.
Exterior / Interior decal design, supply and application.
Project planning and technical support.
Specialised on site painting
Labour support services
Surface refinishing training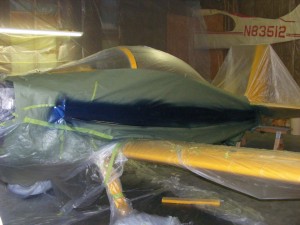 Exacting Aircraft Preparation and Inspection
Flying Colors' painting preparation process is detailed and exacting with safety as our foremost concern. The process begins with masking or protecting all sensitive aircraft components. Inspection panels and flight control surfaces are removed, prepped and painted individually. The aircraft is then stripped using an eco-friendly chemical stripper.
After we disassemble the controls and strip off the old paint, we inspect, identify and repair any missing or loose rivets, stress cracks, dents or corrosion. Since structural integrity is paramount, all previous repairs are also checked and any problems resolved prior to paint application.
After stripping, sanding, inspection and repairs are completed, the bare metal surface is first acid-etched and then sprayed with a coating chemical for rock-solid paint adhesion and chemically-bonded corrosion resistance. The aircraft is moved into our aircraft painting hanger for priming with an epoxy-based primer. All primer and paint is applied within the protected spraying hangar.
Dupont and PPG Polyurethane Enamels for a "Wet Look" Finish
For extreme durability, Flying Colors uses multiple coats of ultra-rugged,  polyurethane enamel for a "Wet Look" finish. Using advanced Dupont technology, this unique acrylic/polyester-based painting system resists harsh environmental conditions like UV rays, acid rain, solvents and chemicals.
PPG Aerospace is a key global supplier of Coatings products for the Commercial segment of the Aerospace Industry. As a supplier to all of the major producers of OEM aircraft, PPG Aerospace coatings are qualified for use on nearly every surface of the aircraft structure and exterior.
After painting, any additional detail painting, lettering, numbering, pinstripes or decals are applied before the aircraft exits the protected painting hanger. Disconnected aircraft controls and surfaces are then reassembled, with final balancing and inspection performed by an FAA certified aircraft mechanic.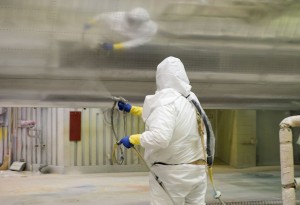 Environmentally Responsible, Licensed and Approved Facility
All stripping and painting facilities are fully approved and regulated. During the preparation and painting process, Flying Colors does everything possible to protect the health of our workers as well as the environment. All workers wear fresh-air respirators while painting and any exhaust air is environmentally filtered to remove volatile organic compounds prior to release back into the atmosphere. Any waste chemicals or materials are captured during application for recycling, treatment or disposal by approved waste disposal services.
For over 25 years, Flying Colors has been making aircraft beautiful. Whether it a full exterior and interior refinish, or just a touch-up, we make sure that we use the best materials and caring labor to make the lineman ask: "is that new?"
Flying Colors, Inc is conveniently located in Central Florida at Leesburg Airport (KLEE)
Call (856) FLYING1 (359-4641)